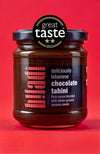 Chocolate Tahini (220g)
£4.99
Rich cocoa blended with stone-ground sesame seeds, grape molasses (as a natural sweetener) and coconut oil go into this delicious Chocolate Tahini.
FREE DELIVERY ON ALL ORDERS OVER £20 - Mix & Match any of our products!
A Great Taste Award Winner... the judges said:
" This is sensational. A divine and perfectly balanced combination of top quality chocolate and fabulous sesame, a luscious texture and a compellingly moreish flavour. We were reduced to grunts of appreciation! It smells and tastes fabulous, the appearance is glossy and inviting and the whole thing is a miracle of culinary alchemy."
cocoa, grape molasses, sesame tahini, and a bit of coconut oil. Dark chocolate blended with sesame tahini
Tahini has a good amount of protein, fiber, selenium, and B vitamins.