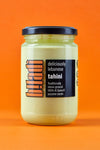 Gluten Free Tahini Paste (300g)
£4.99
Lovingly made in the Lebanon from 100% traditionally stone-ground sesame seeds grown in the renowned Al Qadarif region of Sudan. Our gluten free tahini paste is suitable for vegans and for vegetarian tahini recipes. For something different, try blending with aubergine to make the delicious traditional Lebanese dish of Baba Ghanouj.
100% sesame seeds from Al Qadarif region of Sudan.
Tahini is full of antioxidants, naturally low-fat, high in fibre, calcium, free from (gluten free, lactose free), high in protein, rich in vitamins B and E, magnesium and iron.